Well, it is already February and Germany is celebrating by giving us a cold front! This may not seem too cold to others but 16F (it changed to 16F as soon as I pulled out of my driveway) in the morning is pretty cold to this girl! I was very thankful for not having to run outside today!
I have been having issues with my legs (again) and it is either my legs getting used to running in non-minimalist shoes, or they are just trying to piss me off! I am hoping it is the first option! Either way, I finally got an appointment with the podiatrist for next Friday , so I am praying we come up with a reason and solution to these problems I have been having.
I asked a running friend on Sunday if she ever had pain in her legs when she ran, and she said they would ache from being tired, but that they weren't in 'pain'. Hmm, mine get tired and I can run through that, but I am getting pain. Pain that is enough that I am ready to drop to my knees and give up after 0.25 miles. This is not normal. I have been able to run 4 miles no problem, and then last night I took it to the treadmill hoping it would be less painful. Nope. I was pausing it every half mile to shake my ankles and legs out and then would continue suffering until the next half mile marker (well, whatever you call it). I did this for 4.5 miles. I worried this made me a wimp…having to shake it out so often, but as Lisa said, I was "maybe a masochist, but not a wimp"…oddly, that made me feel much better!
I was lucky to borrow another runner's "stick" and have been using that thing like it is going out of style! I am telling you, running group buddies are life savers. You really need to get one! I would have given up long ago if I did not have these ladies to give me ideas, motivation, advice, guidance, and gear to borrow!
In between my rolling with the stick, I have been icing as much as possible! I am hoping this will help with any inflammation (the ice) and knots (the stick)! I was so tired after the run and the stretching that I really did not want to peel myself off the sofa in order to go to bed without the ice (aka: frozen corn).
Luckily, I had my compression sleeves to join me for my night's slumber. Who needs a husband to cuddle up to, when you can get squeezed to sleep with your adoring and always eager to help, compression sleeves??!! I personally love mine and have gotten so much use out of them, that I will be getting another pair as well as compression socks! Perhaps a bright pink or bright blue pair!!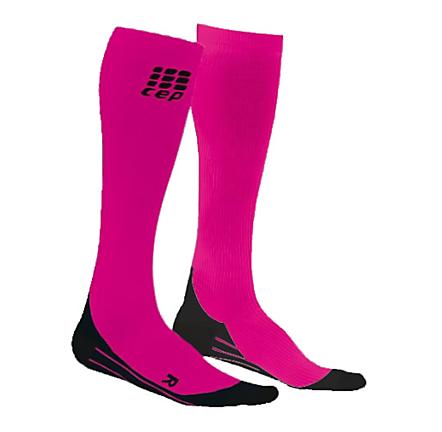 So for now, it is my goal to take it easy as much as possible in between my runs. I plan on taking tomorrow off if I start out in as much pain as last night, I don't want to get injured. I will continue to stretch, roll and ice in hopes that will get me by until I see the Podiatrist! Wish me luck!
Care to share experiences with podiatrists, compression socks while running, or your pain relief/post run secrets?
In honor of tomorrow being Groundhog day…who thinks the groundhog will see his shadow?